Orthotech 3D MINI
Meet the travelling Podiatrists' best friend. The size of a smart phone, the Orthotech 3D MINI replaces the traditional non-weight bearing casting methods. Extremely portable and accurate, perfect for travelling or on the go Podiatrists. The MINI gives you the freedom to capture a non-weight bearing 3D scan anytime, anywhere. Equipped with state of the art software, The MINI is the total package.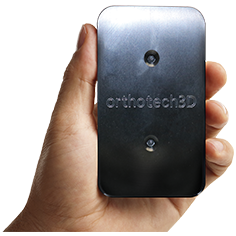 SCANNER SPECIFICATIONS AND FEATURES
Extremely accurate (+/- 0.4mm)
Similar size to a smart phone
Portable design with no power needed
Carry bag included for travelling
Full 3D non-weight bearing scans
Instant 3D scanning
Lightweight – under 150 grams
Interactive 3D images
Multi-camera setup
Requires a scanning sock ($1.50 – can then be donated to underprivileged children in Africa)
PROGRAM FEATURES
Powerful interactive 3D images that can be viewed from any angle. The software will automatically save and store your prescriptions and 3D scans in monthly folders. It enables you to set default prescription forms to decrease prescription writing time and scans both feet in seconds.